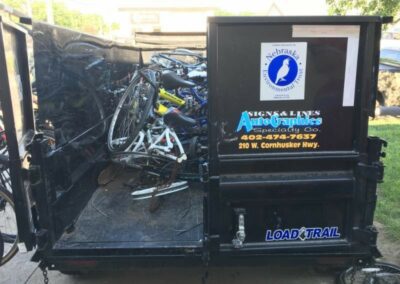 The Nebraska Recycling Council has grant funds of up to $25,000 for the purchase of recycling equipment. Funding for these grants is provided by the Nebraska Environmental Trust. Any Nebraska organization including schools, municipalities and other government entities, nonprofit organizations and recycling companies are eligible.
Welcome to the holiday season! As we look forward to the new year we spend quality time with family, connect, and relax. We also travel, feast, decorate, and shop, but the rate of consumption is not sustainable. Under the allure of holiday lights and nostalgia lies the stark reality that capitalism is stealing Christmas and Santa Claus might be the biggest salesman.
The Latest from the Community Toolkit
This study provides strong evidence that an enhanced national recycling and composting strategy in the United States can significantly and sustainably address critical national priorities including climate change, lasting job creation, and improved health.
6 Steps to Replicate the Recycling Partnership's Drop-off Anti-Contamination Program
This document shares regional and national funding opportunities for recycling and other waste management projects.
Madison, Wisconsin's Program to Assist Disabled with Carts offers qualified residents a special solid waste collection service. This may be used as an example of the requirements, conditions, information, expectations, and application process to help municipalities get started with this type of service.