Thanks for attending the 2022 NRC conference,
REDISCOVERING RECYCLING: Evolving Markets + Evolving Perspectives
Congratulations to our 2022 Award winners!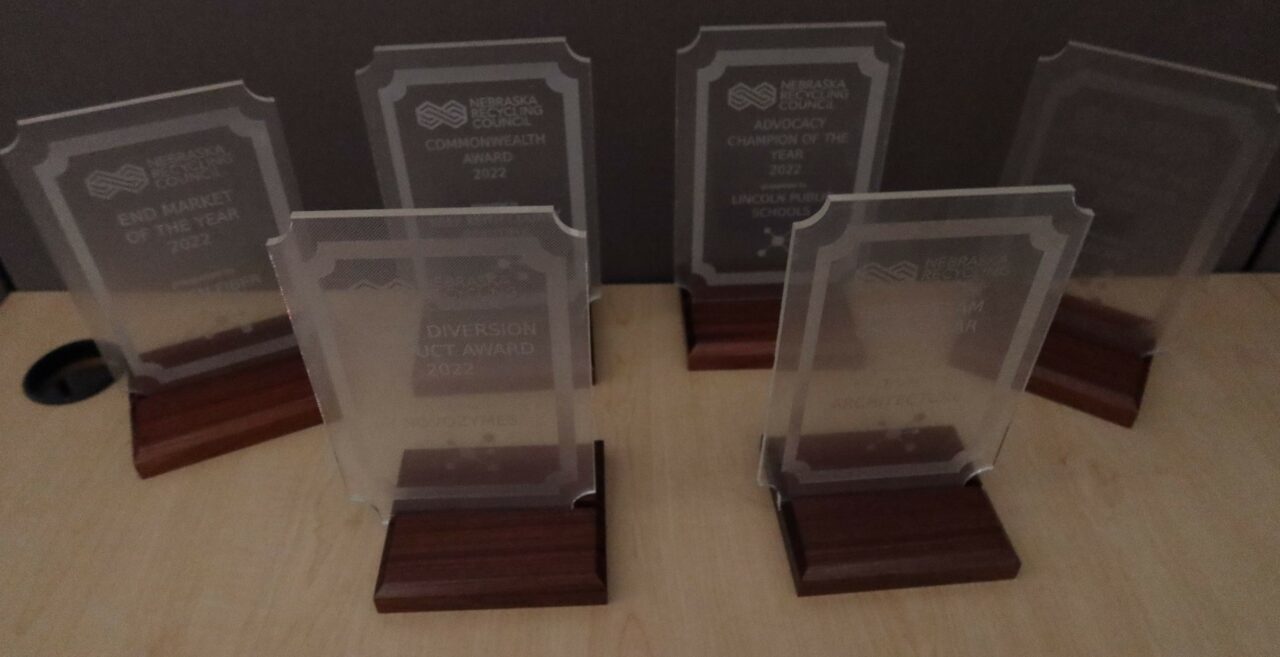 2022 Commonwealth Award
Keep Keith County Beautiful
2022 End Market of the Year Award
Green Fiber
2022 Waste Diversion Product of the Year Award
Novozymes
2022 Advocacy Award
Lincoln Public Schools
2022 Green Team of the Year Award
BVH Architecture
2022 NRC Member of the Year Award
Sadoff E-Recycling and Data Destruction
Get in touch with our conference speakers
Keynote Speakers
Steve Alexander, President and CEO Of Association of Plastic Recyclers
Bob Gedert, President of National Recycling Coalition
The Weight of Waste: Why Markets Fluctuate and How to Adapt
Matt O'Connell, Recycling Coordinator, City of Omaha, matt.o'[email protected], 402-444-3915 ext. 1120
Aaron Withington, Logistics Coordinator, Western Resources Group, [email protected], 308-284-7353
Danielle Easdale, Director of Sales and Marketing, Firstar Fiber Recycling, [email protected], 402-212-5773
Beyond the Basics: Targeting Next Level Landfill Diversion
Dave Heck, Plastics Operations Manager, Solutions Plastic, [email protected]
Jennifer Jones, CEO/Owner, Scrap Central, [email protected], 402-393-6620
Joe Worthing, President, Glassman Recycling & Repurposing, [email protected], 402-578-4204
Compost Corner: The State of Composting in Nebraska
Brent Crampton, Director of Partnerships, Hillside Solutions, brent@hillsidesolutions
Haley Nolde, Executive Director, Nebraska Recycling Council, [email protected] , 402-436-2384
Jean Waters, Sustainability Consultant, [email protected]
Seeking Sustainability: How Consumer Demand is Changing Business
Jeff Jirovec, Owner/Operator, Grow with the Flow, 402-890-4388
Leigh Neary, Owner/Founder, Exist Green, [email protected] , 402-502-0880
Jackson MacLean, Casella Waste Solutions, 224-238-0625
THANKS TO OUR VENDORS & SPONSORS




FRIENDS OF THE NRC SPONSORS
Barcel Mill & Lumber
Barcel Mill and Lumber is a producer of shipping dunnage, blocking, veneer, construction stakes, lath, hardwood mulch, colored mulches, and Cedar mulch. They also produce compost for morbidity loss animals and animal bedding and are especially proud of their Certified Recycling Auditable Program (CRAP). They can be reached at 402-538-3895 or [email protected]. 
ReUnite
ReUnite is a waste diversion marketplace that connects communities to local collection services and resources. ReUnite partners to provide services for materials and items that are traditionally overlooked but could instead be recycled, reused, or repaired locally. Visit our website to learn how you can divert more and join our network!
Uribe Refuse Services
Uribe Refuse Services is a 3rd generation family-owned and operated company that provides quality solid and liquid waste management services to the residents of Lincoln and surrounding communities. Although Uribe started hauling garbage, it has diversified to include trash, recycling, roll-offs, portable restrooms, pumping services, scrap tire recycling, and composting.  Visit our website at www.uriberefuse.com or call us at 402-467-1239 to learn more about our services.