City Council considers improved educational methods to promote better recycling efforts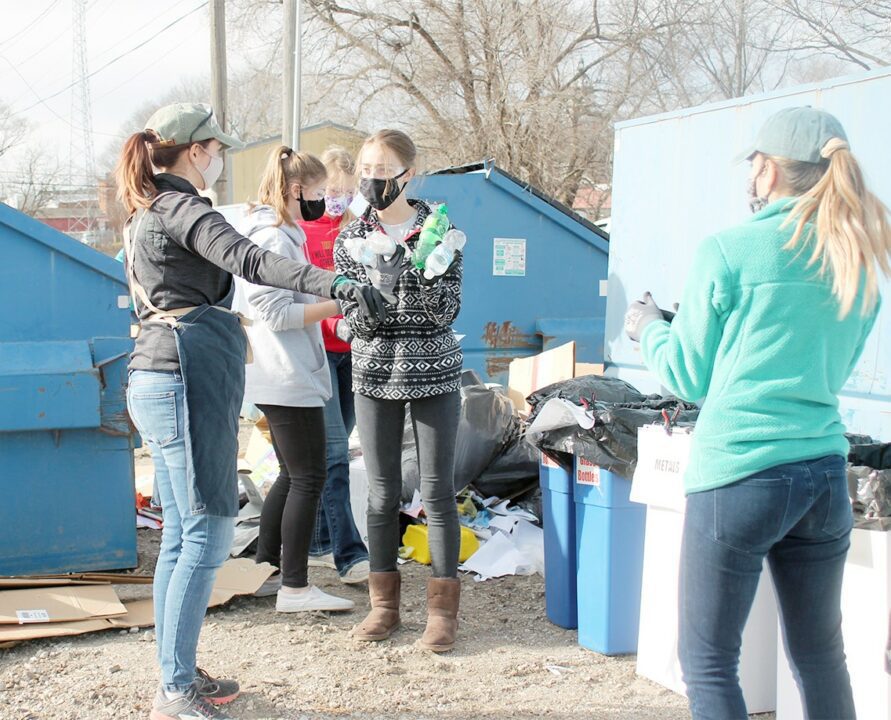 Two Tecumseh City Council members, and three students volunteers from Johnson County Central Schools volunteered their time to assist with a contamination sort at Tecumseh's Recycling Center on Friday afternoon, November 20th. This sort was conducted by the Nebraska Recycling Council and was funded through a Waste Reduction and Recycling grant from the Nebraska Department of Environment and Energy. Part of the grant objective is to provide anti-contamination strategies to two communities within the 20 counties that make up southeast Nebraska. The other community selected involved a waste sort for the Village of Clatonia in Gage County. Council members assisting with this contamination sort included Jim Reed and Lorie Topp. JCC students volunteering their time were Kaita Baird, Bailee Sterup, and Sunnie Rother. Crewmembers from the Nebraska Recycling Council involved in this sort included Leah Meyer, Program Director, Megan Jackson, Program Director, and Haley Nolde, Recycling Associate. Haley worked with Janelle Moran, Tecumseh's City Clerk, to organize the sort and Megan and Leah provided the on-site direction. The group was at the Tecumseh Recycling Center until 3 pm, as the sort only took about 1 ½ hours.
According to Leah Meyer, program manager with the Nebraska Recycling Council, the group selected the two fullest bins that looked to have a good mix or recyclable materials so it would be considered representative of what the other eight might look like when full. "We considered these two to be a sample of the overall number of bins," Meyer said.
"We did not find an excessive amount of contamination and what we did find, we would consider to be addressable with communication, such as mailers, emails, and social media posts to educate residents on common recycling issues, such as attempting to recycle styrofoam or containers with too much leftover food, which Recycling Enterprises, the recycler that Tecumseh uses, will not accept," Meyer said.
According to the City Council, one of the largest issues is illegal dumping of material that cannot be recycled, such as drywall or furniture. This is not a systemic or cultural issue, but rather should be addressed on an individual basis.
The Nebraska Recycling Council will work with the City Council in providing any education sessions necessary, according to Meyer.
Meyer said that out of four yards of recyclable material, there were only 22 pounds, or four bags, of material that was not recyclable. Representatives from the Tecumseh Public Works kindly came and picked up the bags to dispose of them in a community dumpster.
Some time in the near future, representatives from the Nebraska Recycling Council will attend a Tecumseh City Council meeting and provide an overview of its findings with recommendations on location, signage, size of containers, communication methods, hauler preference, materials recycled, and collection method with photos and data from the sort.
When discussing what kind of options the Tecumseh City Council would have in eliminating this contamination, Meyer recommended providing regular and clear communication with residents, moving the containers to high visibility areas and adding specific containers for highly valuable and dense commodities, like cardboard, can really help reduce contamination or illegal dumping and save costs. Meyer added that NRC can help provide funding if any expenses are necessary through the grant.
According to Meyer, there are many reasons a community may suspend its recycling service, budget, being chief among them. "Contamination and illegal dumping can and does often increase the cost of recycling to a point that a community may not be able to support it. We asked to do a waste sort in Tecumseh because our survey of the region found that residents were highly motivated but had some contamination issues that could be addressed," Meyer said. She added that when the waste sort was conducted the Nebraska Recycling Council found strong support from the City Council and a wonderful group of volunteers from the community high school. "If the community is motivated to address its contamination issues, NRC is here to support the City in every effort," Meyer said.
"Recycling should be seen as an opportunity. Nebraska is just in the beginning stages of developing strong markets for recyclable materials and processing centers. It starts by demonstrating that we have strong communities that are motivated to reduce waste and are educated on recycling," Meyer concluded.