Member Spotlight: Duncan Aviation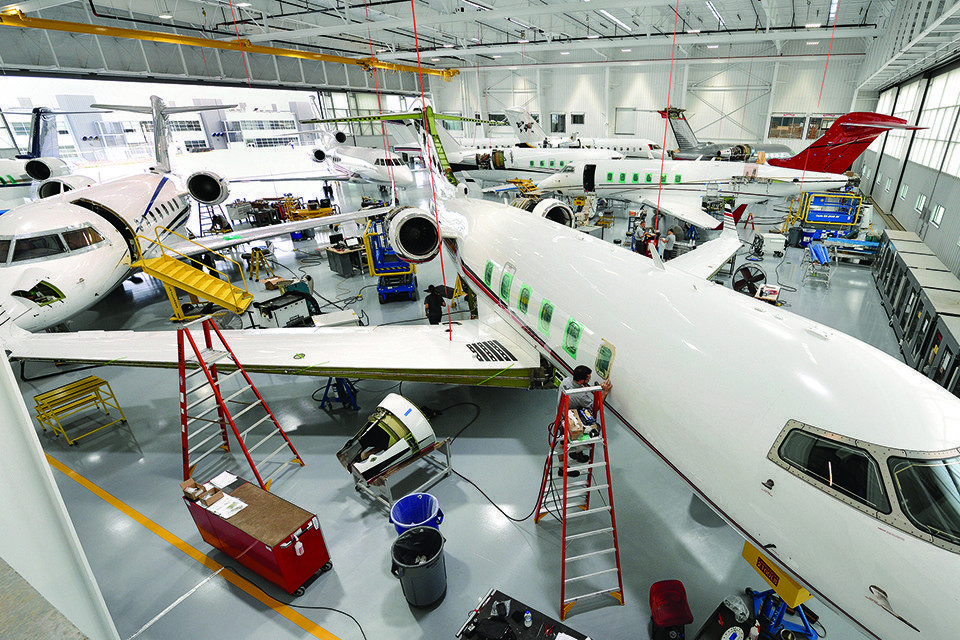 Photo courtesy of Duncan Aviation, Inc.
Published January 29, 2021
This is part of a series of interviews with NRC members. The purpose is to provide insights into materials management programs and best practices of member municipalities, businesses, and service providers.
Duncan Aviation is the largest privately owned business jet service provider in the world. With complete MRO (Maintenance, Repair and Overhaul) services at three beautiful US facilities located in Lincoln, Nebraska; Battle Creek, Michigan; and Provo, Utah, strategically placed regional shops at business aviation airports throughout the US, and mobile technical teams able to provide services worldwide, they help business aircraft operators get the most value from their aircraft ownership.
Their premier aircraft services–delivered on time–include airframe & engine maintenance, avionics installations, interior & paint completions/modifications, avionics/instrument/accessory repairs & overhauls and parts support for aircraft manufactured by Bombardier, Dassault, Textron, Gulfstream and Embraer. Their avionics satellites and airframe and engine Rapid Response teams provide airframe, avionics, and engine services in the field for scheduled and AOG work. And their parts and components teams give 24/7/365 support worldwide with knowledgeable reps who answer the phone day or night. They also provide complete aircraft acquisition and sales services for those looking to buy or sell a pre-owned aircraft.
We spoke with Kelly Becker, Environmental Director at Duncan Aviation, to get an inside look at Duncan Aviation's environmental program.
NRC: What steps has Duncan Aviation taken to reduce waste and incorporate more sustainable materials and practices?
DA: In 2006, Duncan Aviation, with the support of WLA (Water, Land, Air) Consulting, developed an EMS (Environmental Management System) to focus on reducing the company's impact on the environment and community by setting yearly EMS objectives and targets.
NRC: Can you describe what you have done and what your initial goals were?
DA: Our initial goals were to reduce the amount of hazardous waste generated, reduce energy costs, and find safer chemical products to use in our processes.
NRC: How and when did the idea for making these changes arise in the first place?
DA: Duncan Aviation wanted to continue to grow as a company while making sure we continued to safeguard the environment.
NRC: What were the most difficult aspects of implementing the program, and how do you handle them?
DA: The main challenge was finding environmentally safe products that performed to the standards we expect at Duncan Aviation and that are generally expected throughout the business aviation industry.
NRC: Were there any unexpected barriers?
DA: Not really. When you are building a program that is going to change the way things have been for a long time, you know that you will have barriers to overcome.
NRC: Were there any unanticipated benefits?
DA: It has made us more flexible in finding ways to continue to maintain our high standards of quality of work.
NRC: Are you tracking recycling, landfilling, reduction, and reuse (zero waste) metrics?
DA: Yes, we are tracking recycling and minimizing material that is presented to the landfill. Annually, we publish our recycling data to show all employees the positive impact that our efforts throughout the company are having on the environment and in reducing costs.
NRC: What have you done to engage the community/employees/customers?
DA: In addition to creating a Green Team and keeping managers informed of new policies, we've worked with the Marketing Department to publish articles and PSAs about, not only our company-wide recycling efforts and results, but also measures team members can take in their own homes to help reduce their impacts on the environment.
NRC: What are your goals or aspirations going forward?
DA: To increase our recycling efforts and continue to educate employees about the importance of recycling and the positive impacts that it has to our community.
NRC: How do you think you can reach those goals?
DA: Using the EMS system by setting reachable objectives and goals for the different departments.
NRC: Do you have any advice for others trying to improve their programs?
DA: Be persistent with your own goals that you want to achieve; it starts with you. Communicate the positive effects that you and your company accomplish and take every small gain as a success and a step in the right direction!
NRC: What do you think is the single most important thing to do or the most important place to start when implementing the types of changes, you have made?
DA: Communication is the key! The more people throughout your company from whom you get buy in, the more successful you will be in reaching the goals that you have set.
NRC: If you had the power to change anything in the overall system of materials management outside your business, what would it be?
DA: Eliminate the use of Styrofoam and only use products that can be recycled for packaging.
NRC: How has COVID-19 affected your operations?
DA: Although we have numerous team members in positions of support who have been working from their homes, repairing, painting, refurbishing, and upgrading avionics on airplanes requires our team members on the floor and in the shops to be on-site. We've taken all of the precautions required by the Lancaster County Health Department to safeguard the health of both our team members and those customers who have come to our facilities. All of our facilities and Satellite Shops have remained open and fully operational through the pandemic.
NRC: How has NRC played a role in your sustainability program and goals?DA: NRC has visited our facility in the past and given suggestions on recycling, and I have used the NRC website to identify who will take specific recycling materials for Duncan Aviation and to identify collection sites for employees who ask how to dispose of materials from home.