NRC Supports Lancaster Villages Following Trailer Site Closures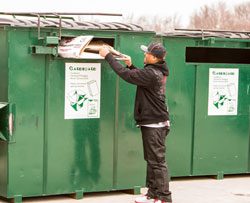 Published August 02, 2020
The City of Lincoln is consolidating its recycling sites from 19 to four or five trailers by the year's end, in response to city budget constraints. The remaining sites will be upgraded to hold more material and the reduced number will ease contamination issues, which can raise recycling costs and lessen the value of the materials. 
Read more on the decision here. 
Nine sites in the surrounding Lincoln communities will also be removed, including Bennet, Davey, Denton, Firth, Hickman, Malcolm, Panama, and Roca. The City of Lincoln has offered to sell the recycling trailers to the communities and is assisting in establishing recycling programs in the respective municipalities. 
The Nebraska Recycling Council has resources to help:  
Equipment: NRC manages a state-wide equipment grant, which supports the purchase of recycling equipment up to $20,000 with a scaled cash match or in-kind contribution. For municipalities of less than 5,000 people, there is only a 20% cash match required for the purchase of any recycling equipment. Click here to apply for an NRC Equipment Grant. 
Consultation: NRC can consult on best practices in contracting with regional haulers or in building relationships directly with a processing center. Staff can also advise on methods of maintaining a recycling program, communicating with residents, and ways to curb contamination and illegal dumping. 
In southeast Nebraska, the average annual cost to a municipality for maintaining a trailer with a private hauler is $2,775 with a median cost of $3,000. The average cost per pick-up is $200, with a median cost of $165. Most trailers in the region are serviced twice a month, up to every six weeks. 
Contact the NRC Program Manager, Leah Meyer at [email protected], to further collaborate on ways to start or maintain your recycling program.