Stepping up Recycling in St. Paul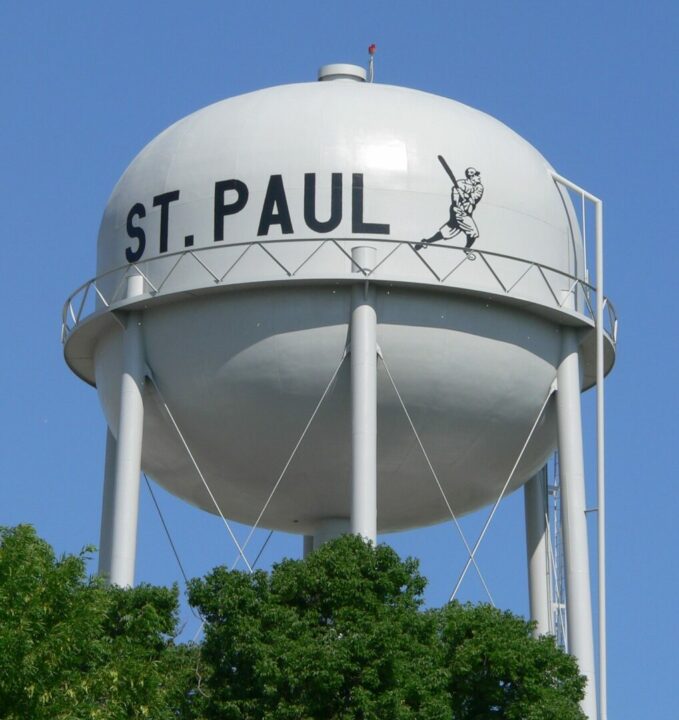 Published January 03, 2019
This is the first in a new series of interviews with NRC members. The purpose is to provide insights into materials management programs and practices of member municipalities, businesses, and service providers.
Laura Berthelsen, employee of the City of St. Paul, was assigned the task of researching and making recommendations for the City's recycling program by the Mayor and City Council as Community Programs Coordinator. She tells the story of her journey here.
NRC: Last year was a big year of change for recycling in the City of St. Paul. Can you talk about that?
LB: In May 2018, a 10-bin recycling trailer was put into service in St. Paul. The trailer was obtained with the help of a grant from the Nebraska Recycling Council. The recycling material that is collected is plastics no. 1 & 2, newspapers & magazines, and tin cans. Since we received the trailer, we have collected 32,876 lbs. of recycling material – which has been diverted from the area landfill. In November 2018, the local grocery store obtained a grant from the NRC for a baler. They estimate that they are able to bale 900 lbs. of cardboard each week. The cardboard bales are taken to Green Fiber in Norfolk. The grocery store realizes a savings of approx. $400 per month on their garbage fees by diverting the cardboard from the landfill.
NRC: How did the idea for making this change arise in the first place?
LB: When the City was looking into recycling options, we contacted the garbage service companies for input. The company that picked up garbage from the grocery store was concerned with the amount of cardboard that they were picking up and hauling to the landfill from the grocery store. We approached the grocery store about obtaining a baler to lessen or eliminate the cardboard going to the landfill.
NRC: What were the most difficult aspects of implementing the program and how did you handle them?
LB: The biggest issues dealt with compliance for the types of recycling we could collect. Years ago, the St. Paul community had a recycling drop off location that accepted all plastics. Recycling is not as profitable as it once was, and we are no longer able to recycle all plastics – only plastics 1 and 2. It's been an educational process to bring awareness to what recycling is acceptable and more importantly what and why we can't accept other items for recycling.
NRC: Were there any unexpected barriers?
LB: We anticipated that the bigger communities (like Grand Island) would have recycling resources that we could use or a recycling center that would accept our recycling material, but that wasn't the case. We had to look elsewhere, like Broken Bow who offered a recycling center that we could deliver our recyclables to.
NRC: Were there any unanticipated benefits?
LB: The recycling benefits we've seen community-wide are that businesses that haven't considered recycling are now looking into their options for either recycling or reducing waste.
NRC: What have you done to engage the community and elected officials?
LB: We have been lucky in that many community residents requested recycling options when none were available. In response to those requests, City officials began exploring the various options for recycling. The Mayor and City Council supported the idea of recycling and determined that a 10-bin recycling trailer was the best option for us for the type of recycling we could offer and manage. The Nebraska Recycling Council helped us compile educational material to provide to our residents explaining what type of recycling we could accept and where to take them for recycling. The local newspaper has allowed us to publish a recycling column in the newspaper to further advise the public on the results of their recycling efforts, what is trending for recycling, and to address issues that we encounter.
NRC: What are your biggest concerns going forward?
LB: An important component to any recycling program is who can take our recycling material. Recycling isn't as profitable as it once was, and it is harder to find end users for the recycling. The transportation costs for us to get our material to a recycling center is one cost, but the bigger transportation cost is to get the baled recycling material from the recycling center to an end user that can make a viable product out of the recycled material.
NRC: Do you have any advice for others trying to improve their programs?
LB: The most important component is education. The public needs to not only understand what recycling is available, but why you are only allowing certain items. If they understand that certain items simply cannot be recycled or that it is not cost effective to recycle certain items, the compliance rate will improve. We have explained what happens to the recycling material we collect – from the time it goes to the recycling center to the end user. It's helpful for residents to understand that their newspapers will one day become insulation for their homes, or the plastic water bottles they use will be made into park benches. To make it a complete cycle, we need the residents to purchase products made from recycled material.
NRC: What do you think is the single most important thing to do or place to start when implementing a change in one's community?
LB: Determine what the residents want, and what they will support. Sometimes it's important to start small, and gradually expand the program as the community becomes more knowledgeable and aware of the benefits.
NRC: If you had the power to change anything in the overall system of materials management, what would you do?
LB: We need more end users – innovative businesses in the Midwest willing to develop a use for recycled materials, and people willing to purchase the product. To keep recycling costs down, we need to be able to ship the recycling to more regional businesses within the U.S.
NRC: Why did you join NRC?
LB: NRC has been very instrumental in getting our recycling program up and running. They guided us through the research process when we were deciding what, if any, recycling we wanted to offer, and what type of recycling equipment was best for us. They assisted in the grant process to obtain a 10-bin recycling trailer, and they have been a wonderful source of information as we educated, and continue to educate the public in implementing the program and dealing with compliance. Members of NRC have access to excellent recycling resources.
Thank you very much, Laura!