Success Story: LPS Sustainability
Published November 01, 2022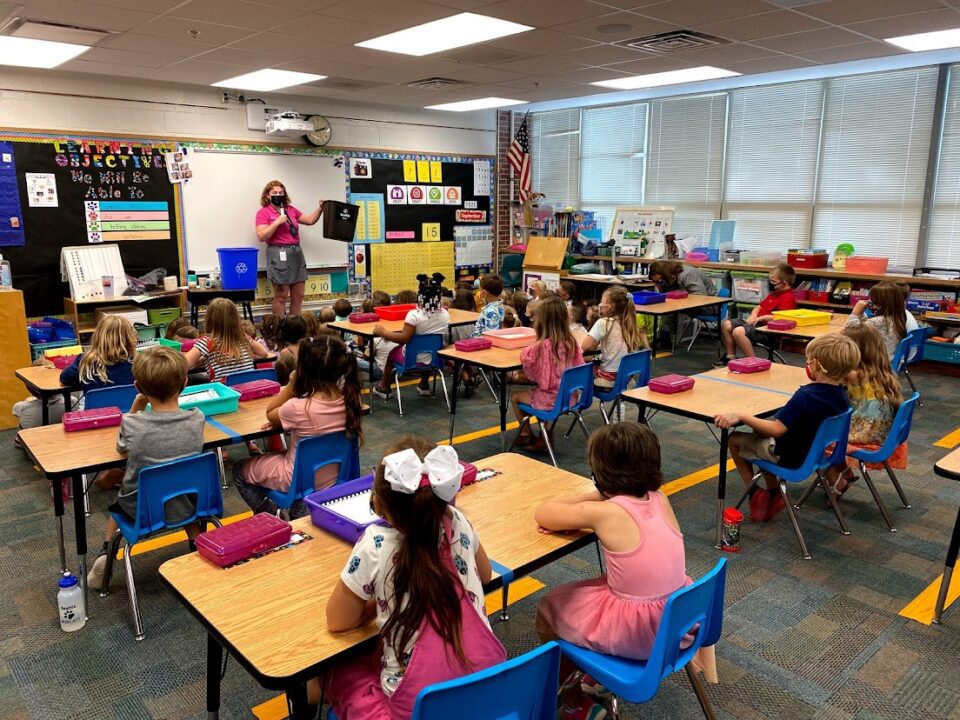 We would like to share success stories with our members and followers, and NRC is pleased to highlight our member Lincoln Public Schools Sustainability Department.
Tell us about your organization. 
Lincoln Public Schools serves over 42,000 students, more than 8,000 employees, and manages 70 facilities with over 8,000,000 square feet of space. The LPS Sustainability journey started in the early 1990s with the initiation of a recycling program at a handful of buildings. Those efforts grew to be a district wide recycling program by 2002. In 2014 interests expanded beyond recycling to include composting and other sustainability topics. By 2019 LPS had adopted a compost program in all school cafeterias as well as passed a sustainability policy that stated a commitment to a district wide culture of sustainability. Now, the LPS Sustainability department supports a variety of interests including waste diversion, alternative transportation, energy efficiency, outdoor learning, and more.
What are your sustainability goals and initiatives? 
LPS Sustainability aims to promote green efforts throughout the district and the community by implementing environmentally responsible practices in LPS facilities and providing educational opportunities for future environmental stewards. When the recycling program began nearly 30 years ago, a 25% waste diversion rate goal was set. Currently, with district wide composting and recycling, LPS strives for a 50% diversion rate or higher. Additionally, any construction projects managed by the district are required to have an 80% diversion rate goal. Initiatives that support LPS waste diversion goals include container resets and school-wide composting. Container resets involve removing oversized, excess containers from throughout a building and resetting each space to have one landfill and one recycling bin side-by-side and near the door. Not only does this process help custodial teams save time when managing waste, it also allows our team to reevaluate the waste needs of a building and label all bins to help educate on the LPS recycling categories. School-wide composting also requires resetting and redesigning waste stations within a school. Buildings that participate in the school-wide compost initiative have designated compost bins in addition to the landfill and recycling bin in their classroom. As more buildings adopt the school-wide composting program, LPS makes progress towards the long term vision of becoming a zero waste district.
What are some of the challenges and barriers that you have faced? 
As a school district there is continual turnover of students, families, and staff. This provides a unique challenge as constant training and education is needed for long standing programs. With continued maintenance and training, our small team is sometimes limited in the capacity to engage students to the fullest and pursue other areas of sustainability. There is also interest in exploring more waste diversion opportunities however this can be limited by local infrastructure and processing facilities. Additionally, hauling costs and procurement of additional waste diversion tools can also pose a barrier for the program.
What are some of your success stories? 
Lincoln Public Schools is proud to have a district wide composting and recycling program which resulted in 52% of the district's waste being diverted from the landfill in 2021. Efforts continue to further divert waste from the landfill via school-wide composting. This initiative allows for compost collection in classrooms, restrooms, and offices as well as the cafeteria. Multiple schools have volunteered to adopt this initiative and all new schools open with this structure, the first ever LPS high school opened with school-wide composting in fall 2022. Aside from traditional waste programs, construction waste management efforts have also successfully diverted 82% of construction waste generated from LPS construction projects in 2021. Additionally, student/staff engagement through curriculum connections, clubs, or personal interests have helped our schools take ownership of the waste programs. In kindergarten students are already learning about the recycling and composting programs at LPS in their Garbology science unit. At East high school, students in the Eco Club advocated for the use of metal cutlery in their cafeteria instead of the single-use plastic utensils that were being distributed. These efforts inspired a change at the other five high schools, and with the funding from a Food Waste Warrior grant, all LPS high schools now have reusable metal cutlery. The Cans4Books Recycling Drive is another successful waste diversion event that encourages the community to recycle their metal cans and donate proceeds to their school library. The continued growth of waste programs allowed the LPS Sustainability Department to apply for grant funding for a full time Assistant Sustainability Coordinator dedicated to waste programs and diversion efforts.
What are some lessons learned that you think others could benefit from?
Successful programs always start with good relationships. Creating programs that are mutually beneficial for various stakeholders help ensure that multiple groups are motivated to see success. Further, adapting plans to accommodate the needs of different buildings or situations and having strategies for sorting, collection, education, etc. need to be set to keep everyone accountable. For example, during a container reset initiative, all waste containers within a building are reset to have only one landfill bin and one recycling bin, labeled, side by side, and near the door. Not only does this reset make it easier for students and staff to know what goes in each container, it also benefits the custodial team by saving them time and money since they no longer have to search for, empty, and line multiple containers in a classroom. The success of the program can be tracked in the monthly waste reports detailing weights of each recycling, composting,and refuse category.
How has your membership with the NRC played a role in your sustainability goals/initiatives?   
In the past, WasteCap NE was a critical partner for the development of construction waste management guidelines and resources in the 2014 bond. This contracted effort helped LPS achieve over 75% diversion on the Irving Middle School IAQ renovation project which laid the foundation for our construction waste management efforts going forward. Previously, LPS had also received an NET equipment grant to improve recycling efforts at athletic facilities. We continue to gain valuable resources from NRC for local sources or contacts for recycling and salvaging materials.